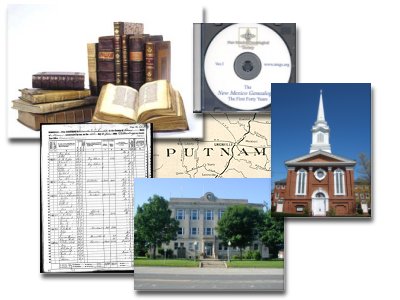 When asking for a lookup include first and last name, and, please do not ask them for a list of a particular surname. Above all....remember to "Thank" them for their efforts.
Lawrence May
Putnam County, Missouri Cemeteries compiled by Sara Lemem Phillips. It consists of two volumes.
Carol Western
Putnam County, Missouri Cemeteries compiled by Sara Phillips.
Estate Records From Putnam County 1845-1909 compiled by Sara Phillips
Putnam County Marriages 1850-1879
Putnam County Census 1850-1900
1877 Putnam County Atlas
1897 Putnam County Atlas
Goodspeeds 1888 History of Adair, Putnam, Schuyler and Scotland Counties
Newspaper clippings, obits, etc. from Putnam and surrounding counties
Pamela Creighton ()
1850, 1880, 1900 and 1910 Putnam County Census on Microfilm
Please provide name, township and page number when requesting a lookup and put "Year and Putnam County Census" (1900 Putnam County Census) in the subject line.
Richard Ross
Our Own Little Town, Newtown, Missouri, 1858-1983 (The Milan Standard)
Provide as much information you know before requesting a lookup in this book as there isn't an index. An index to this book is in the works, but it may take some time before it is completed. Here is the list of Newtown Area Families.
Civil War Muster Rolls
From a CD published by Sierra, makers of Generations genealogy software. Please include first and last names when requesting a lookup....don't ask for just a surname!
Family Tree Maker CD Lookups
Family Finder Index (Volume 1-4) Check first to see if your ancestors are listed on any of the CD's listed below:
World Family Tree Volume 1-7
Social Security Death Index 1937-1995, CD #110
Selected US/International Marriage Records, 1340-1980, CD #403 (Yates Publishing)
Connecticut Genealogies #1, 1600's-1800's, CD #179
Pennsylvania Vital Records, 1700's-1800's, CD #172
Passenger and Immigration Lists Index, 1538-1940, CD #354
Mark Dickson
Heritage Quest Census CD's - 1870 & 1880 - Putnam County
Please include as much information as possible, i.e. township, names, approximate age, etc. DO NOT ask for everyone with a specific surname and remember to thank him for the information.
Charlotte Belden
1912 Bulletin Book from the First District Normal School in Kirksville, MO.
Provide by Charlotte Belden - Moberly, MO
Charlotte purchased the 1912 Bulletin Book from the First District Normal School in Kirksville, Missouri at an antique store. It is almost like a yearbook of sorts, with Faculty & Students enrolled from June 1911 to June 1912. It also has many photos of students. She will be glad to do lookups from this book.
See the website for:
The School Directory of Missouri - 1925-26
The Missouri School Directory - 1950-1951